8k Ultrasound Enhanced Imaging Fort Wayne and Muncie
Miracle in Motion brings you the next level of ultrasound imaging – 8k Ultrasound Enhanced Images. Our state-of-the-art technology takes your regular 3D or HD ultrasound images and turns them into breathtakingly realistic pictures, capturing every detail of your precious little one.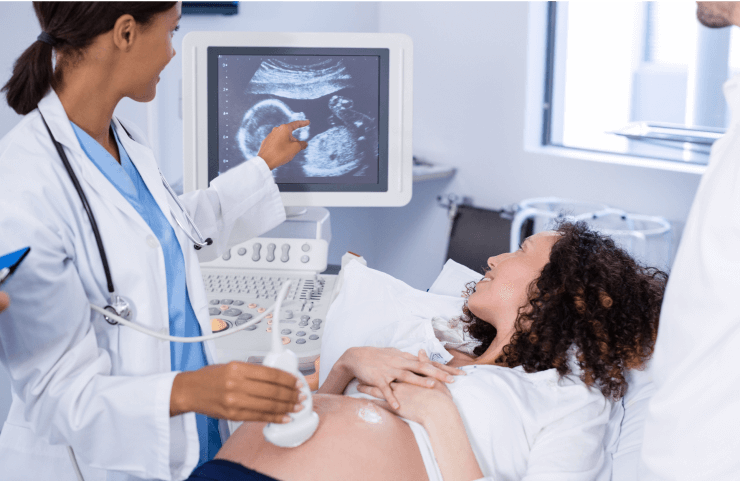 What Are The Differences Between 8k And 4D Ultrasounds?
The primary differences between 8k Ultrasound Image Enhancement and traditional HD or 4D Ultrasound are related to resolution, image quality, and level of detail.
8k Ultrasound Image Enhancement offers an exceptionally high resolution of approximately 8000 pixels horizontally, allowing for the capture of finer details and producing lifelike, crystal-clear images of the baby. On the other hand, traditional HD or 4D Ultrasound typically have lower resolutions, resulting in images with less clarity and fewer details of the baby's features.
The enhanced resolution of 8k Ultrasound Image Enhancement provides a more realistic and emotionally engaging experience for expecting parents, bringing them closer to reality and creating cherished memories of their unborn child that surpass the capabilities of traditional ultrasound technologies.
How Does 8k Ultrasound Image Enhancement Work?
With our revolutionary Image Enhancement technology, you no longer have to wait to see your baby's features. Our 8k Ultrasound Imaging brings you an experience closer to reality than ever before, surpassing the quality of typical 3D, 4D, or even 5D images. Our mission is to create cherished memories for expecting parents, offering a glimpse of their baby like never seen before.
At Miracle in Motion, we understand how important this moment is for you, and our enhanced images will leave you in awe. Embrace the joy of parenthood and treasure these lifelike pictures forever. Visit us today and witness the magic of 8k Ultrasound Enhanced Images – a new era of prenatal bonding awaits you.
Miracle in Motion – Fort Wayne and Muncie Ultrasounds
Taking the perfect 3D ultrasound takes a lot of skill (and the baby's cooperation!) If you've been to another ultrasound facility and not gotten good images, bring us their pictures and get a special package. And if your baby doesn't cooperate during your session, you can return for a second visit — for free! (SONOGRAPHER DISCRETION) — within one week of your original appointment. Our number one goal is your satisfaction, and we love seeing the joy on parents' faces when they see their baby in beautiful 3D.